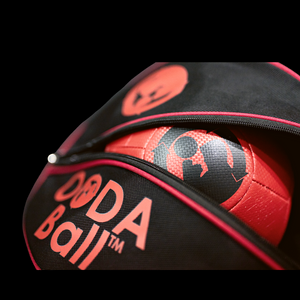 Current UAE World Champion
Xavier Alaoui
It's pretty obvious that it's one of the best tools for working your reflexes...there are countless things you can do with this ball, all you need is the right mindset!
It can be bounced off anything! You can work on your power, speed, and agility - it's like a combination of all punching bags in one.
TESTED AND APPROVED BY
Erik "The KING" Silva
"I invite you to use the OODA Ball -it is execellent . A unique experience, something different -you can't miss it."
Josue Bojorge
"I recommend the OODA Ball because it sincerely works on reflexes, coordination and movements -not only for boxing, but also for MMA, and any type of sport that demands a lot of fast reaction."
Desmond Green
"OODA Ball -man it's amazing! Good for cardio, good for muscle repetition, good for hand-eye coordination -it's pretty nice. Revolutionizing the striking game for sure. You can do a million things with it, so definitely check it out."
Ernesto "Tillo" Sandoval
"Striking is not just throwing the punch.It nvolves so many things… precision, speed, focus on the target and strength of course. I'm convinced of the OODA Ball program... many benefits to use it with our students, so we will soon begin to incorporate it into our programs."
Rafael Rojas
"The OODA Ball is very interesting to work different exercises with fighters, either boxing or MMA. The truth is it's an interesting tool to analyze and sharpen skills incorporate into the training of fighters."
Derek Della Rocca
"I have been implementing the OODA Ball into my functional training circuits for over seven years now. Members really enjoy using the OODA Ball because it provides a challenge yet always brings a smile."
★★★★★

"The quality of the OODA Ball and the OODA Bag is nothing short of amazing."


Tori Nelson

Montreal, QC
★★★★★

"Love the speed, the power, the hand eye coordination. So much you don't get with a traditional bag."

Samantha Pelaez

IntensityX3 Kickboxing - Boca Raton,FL
★★★★★

"Amazing at tuning timing, reaction speed.Something completely new that you haven't seen before."

Demarques Jackson

American Combat Gym - Los Angeles, CA
★★★★★

"Great for hand eye coordination and trying out new combos and tricks. An amazing invention!"

Braden Smith

American Combat Gym - Los Angeles, CA